Finalized in 2017, the Enchanted Circle Trails Plan (ECTP) provides a blueprint for a comprehensive, cohesive, and connected trail system that can improve quality of life and community health throughout the Enchanted Circle.
The ECTP contains the collective voice of the communities of the Enchanted Circle gathered through outreach events, over 1,000 surveys, community meetings and focus groups held over two years. The plan was developed with help from the Taos Land Trust, the Trust for Public Land, the Enchanted Circle Trails Association, and the National Park Service Rivers, Trails, and Conservation Assistance Program, as well as the core municipalities that make up the Enchanted Circle.
The goals of the trail plan are to:
Identify new priority trails for a variety of user groups and skill levels, including seniors, youth, and those with disabilities.
Identify active transportation routes, including in-town and back-country trails that connect communities to each other and the landscape.
Engage diverse community involvement, and facilitates cooperation among land managers and diverse stakeholder groups.
Respect important cultural, agricultural and sensitive areas, and limit impacts on these areas.
Promote awareness of trails and their economic benefits.
Build connections among local residents, user groups and public agencies.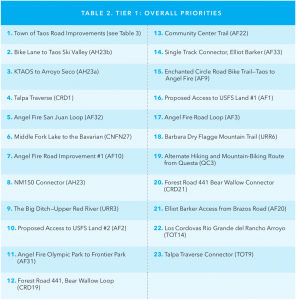 With these goals in mind, the community evaluated over 150 trail segments in order to come up with a tiered list of trail priorities. These were weighted against community-based metrics for evaluating trails, including equity and access, feasibility, current use, and potential community health benefits.
The resultant trail plan is a long-term vision for the area where an accessible system of in-town and back-country trails connects all residents and visitors to our unique landscapes, cultures, and recreational opportunities.
You can download a copy of the full plan here: Enchanted Circle Trails Plan