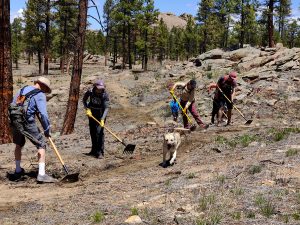 Close-to-home access to trails increases physical activity—particularly for communities with limited access to safe opportunities for outdoor exercise or recreation.
Trails increase opportunities for both recreation and active transportation.
Exercising outdoors on trails reduces stress and improves attention.
Exercising outdoors on trails enhances overall mental well-being.
Thoughtfully designed trails provide opportunities for physical activity for a wide range of people, including children, seniors, and those with disabilities.
Trails improve quality of life by providing gathering places and increasing social connections.
Trails benefit local economies by drawing visitors and new businesses and increasing property values.
Trails connect important community hubs (schools, parks, businesses, hospitals, churches, libraries, and community centers) and revitalize towns.
Trails showcase culturally and ecologically significant areas—and can be designed to guide users away from vulnerable areas.
Trails increase sense of place and shared community identity.
(From the Enchanted Circle Trails Plan, page 16)