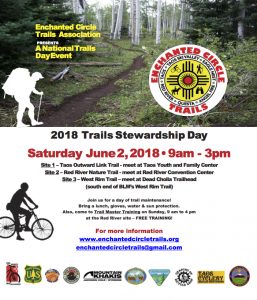 Join us for a day of trail maintenance!
Saturday June 2, 9:00am to 3:00pm
Site 1 – Taos Outward Link Trail – meet at Taos Youth and Family Center
Site 2 – Red River Nature Trail – meet at Red River Convention Center
Site 3 – West Rim Trail – meet at Dead Cholla Trailhead (south end of BLM's West Rim Trail)
Bring a lunch, gloves, water & sun protection.
Also, come to Trail Master Training on Sunday, 9:00am to 4:00pm at the Red River site – FREE TRAINING!
For more information, send an email to enchantedcircletrails@gmail.com.
Click here or on the poster above to print and share it with your friends!